(...) Back in the eighties when his art entered the Metropolitan museum, and the gurus at "Art in America" judged him to be one of Texas's most important artists, Bert Long attained major art world recognition. His style was compared to a mixture of folk art and Surrealism, which isn't too lame a description for paintings with guns or a human brain attached. Literary and art historical invocations are his works' most interesting aspects, and undoubtedly the thing that moves collectors to pay those prices. Bert's intellectual excursions are far reaching, and when they drive his art, as in the 2010 works based on "The Red Book," Carl Jung's journal, it must not be missed.

Bert Long was awarded a Prix de Rome. It was impossible to live and work in that part of Rome, in and around the American Academy's Villa Aurelia with views of antiquities and medieval and Renaissance treasures, and not be profoundly impacted. Remaining in Europe after completing his fellowship widened Bert's art education, and his impressions were synthesized into works such as the painting of Piero della Francesca's Duke of Urbino, into which he inserted his own black man's face. Here the theme was more than a black man's distance from European cultural heritage. Bert made himself Duke Frederico de Montefeltro, a prince who so much revered learning, he had the classics read to him while he ate.

Bert's gift to local kiddies was to incorporate into "Art/Life," his mural at the Looscan Library, images by daVinci, Rembrandt, Monet, van Gogh, Whistler and Warhol. If such images manage to stir sensibilities and yearnings in only one child, we're better off.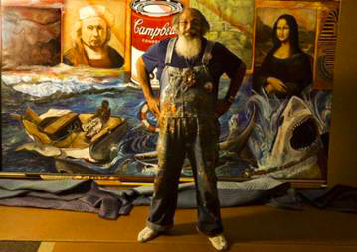 Bert Long and Looscan Library mural, 2009, photo taken by Billy Smith for the Houston Chronicle


Sartre defined Hell as other people, no doubt having suffered torment among the intellectually bland? In Bert's hands, Hell has tacky neon signs, and typical of his art, is death haunted. See Bert Long's newest artworks at Vaughan Christopher Gallery through April 28. So you can properly plan, Vaughan Christopher's gallery hours are weird and unsuitable for working people. The gallery will accommodate you in the evening and on weekends if you call for an appointment.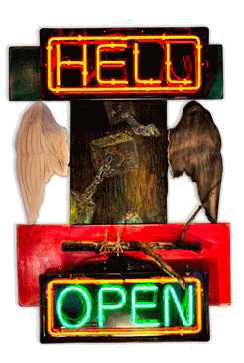 Virginia Billeaud Anderson, April 18, 2012